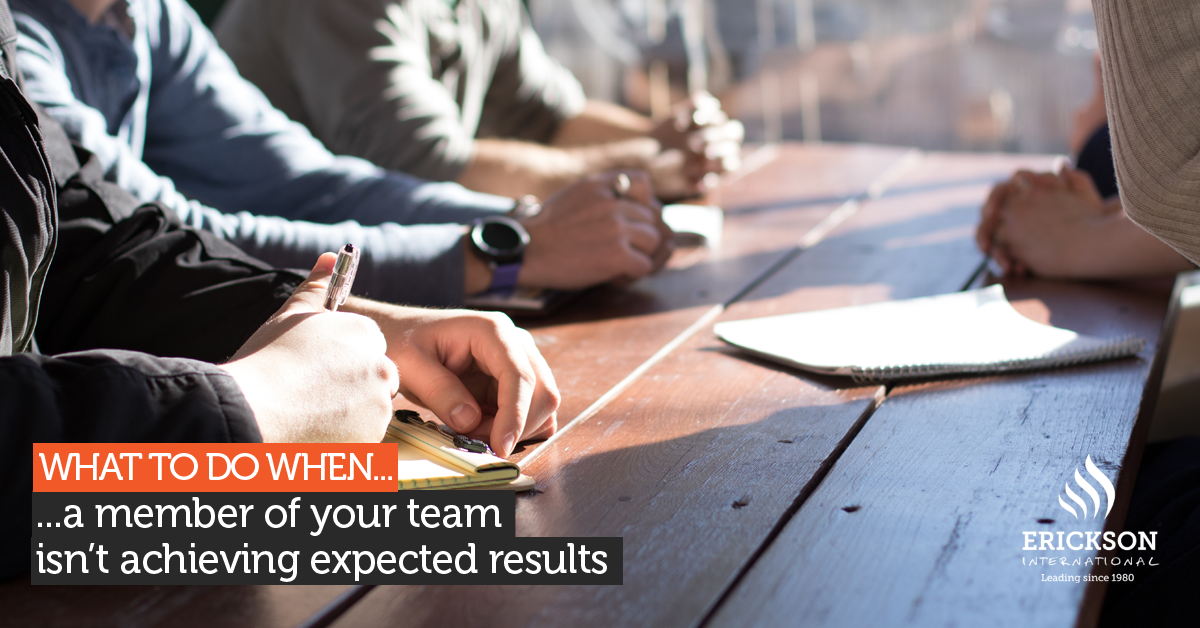 When you are a team leader, there will always be those moments in your career, when you will have to deal with members of your team that don't achieve established targets. In most cases, you will notice the degradation of the performances after a while. One team member that used to work very well suddenly began to stagger and lag behind. Other employees are just not as good as you expected them to be after their interview. The reason of bad performance is not important. Your job as a team leader, HR or business owner is to identify the problem and find a solution.
If you are willing to keep those employees and if you want to find a way to help them, we have few tricks to help you get them back on the right track. It's not too difficult and it can bring you more benefits rather than just laying off non-productive employees.
Remember: you are not the only one in this position and that it is normal for a team member to lose motivation at some point. It is important that you do not have to give up on your employees, so you can achieve success in the business.
DETERMINE THE REASON OF LOW RESULTS.
The reasons for poor job performance can be numerous, so it's up to you to try and get as much information as possible before you go directly to the employee. The more you know, the better you will be able to communicate with the employee. As previously mentioned, those who do not work well are usually classified into one of the following three categories:
1) They lost interest.
This usually happens if the job becomes too easy, if they feel that their contribution is not recognized and valued, or if they have a negative attitude in general and have never even cared for their job and tasks. People in this category are usually top performers in the first few months, but they became bored and indifferent.
2) There are external factors that are affecting their way of thinking.
This can be a reason for poorer job performance and it is usually temporary. If this is the situation with your employee, it is your job as team leader to work with the employee on identifying what is needed to keep the employee focused. Maybe they only need that vacation they have been waiting for a long time.
3) They have too much work, and/or are not sufficiently informed or qualified.
Those who fall into this category usually have poor results from the very beginning. If they can't handle the amount of projects they are responsible for or no one has taught them how to do the job, it's your job as a team leader or HR to recognize this and take the right steps.
So, your first step is to find out in which category your employees fit. This will help you to continue with the next steps. It's good to start by reviewing your employee's previous work and the achievements they have made to show them that it is normal to occasionally fall into a crisis.
DETERMINE THE KEY POINTS YOU WANT TO SAY THROUGH FEEDBACK SESSION AND THEN SCHEDULE A MEETING WITH THE EMPLOYEE.
Talk to your employees as soon as possible about what you noticed and what you hope to be better in the future. Consider only the essentially important topics for achievement of your goals and talk about it at the meeting. The more important key points you have for the meeting, the better. It shows that you stand behind what you say, and that you have a solution that includes both you and the employee. We have to highlight again – determine in which category your employee falls into so you can make a better plan for achieving success.
It is also a good idea to include in your discussion some considerations related to your company in general. In this way, you will show to your employee that they aren't the only one who face lack of motivation at their job. Don't isolate an employee or say what any of the other employees spoke directly about them. Talk about the challenges that the company faces in general.
TRY TO REVEAL WHAT IS YOUR EMPLOYEE GOOD AT AND WHAT THEY ARE INTERESTED IN.
This step overlaps with the previous step (and sometimes it should be the first step). The better you understand what your employee really cares about, the more you will find about their "drives" and motivational factors, and in that way contribute to their performance. If what really matters to them really has nothing to do with your company, keep thinking about it and try to make some sort of synthesis. If they have been involved through their education with something creative but are currently working, for example, in your accounting department, consider how you can make a synthesis between those two positions and in this way ensure that they work on something that matters to them for a certain amount of time. Believe it or not, this can make a huge difference when it comes to motivation.
PREPARE THEIR DEVELOPMENT PLAN AND ASK YOUR EMPLOYEE FOR SUGESTIONS.
It's up to both of you to come up with a solution to the problem together. The most important thing is to let the employee create his own way of further development. You will have a role of a coach. Ask them open-ended questions, direct them in the desired direction, but do not speak for yourself what needs to be done or happen. Be open and listen to the employee. Guide them to tell you what they think they need in order for better results. Ask them for new ideas and concrete feedback. It may happen that you only hear excuses from the employee – make sure you focus on a constructive meeting, where you will appreciate their sincerity.
FOLLOW THEIR PROGRESS AND SHOW APPRECIATION.
Always follow the achieved progress of your team member and show that you are aware that their performance improves (the same goes for the opposite situation). The more positive incentives you can give, the better. In most cases, a team member facing the crisis wants more praise and recognition.
CONTINUE WITH ACTIVITIES ON THIS PLAN.
The worst thing you can do when you find yourself in this situation is to hold a meeting, create a great plan and then don't follow through the development of you employee. We know you can become preoccupied and you have other tasks in you schedule. But notice this – when you start doing coaching with your team member, stick to your plan and keep track of how things are going for them. For many employees, the lack of interest and responsible attitude towards work is the reason for the worse effect, so this is something that needs to become and stay your priority. To follow the activities in this plan means to be sure that a team member will not return to the old bad behavior patterns, which would mean that you have to start with the same process all over again and become more preoccupied with it.
A KEY MESSAGE TO TAKE AWAY.
In the end, it's important to do a recapitulation and highlight the strengths and virtues of your team member, help them succeed, especially if a team member really wants to achieve results but is currently struggling. However, if you recognize a problem in attitude and nothing you do doesn't lead to better results, it's important that you know when to stop trying. Before doing so, be sure that you have completed all of the above steps, that you have tried to give a chance to your employee. If you wait too long, your business could be 'polluted' by negative energy, so keep an eye on the situation and don't let anything endanger your business.
Was this text useful to you? If it was and you want to learn more about team leadership, employee training and development of organizational culture of the company in which you work, sign up for our upcoming training "The Art and Science of Coaching".