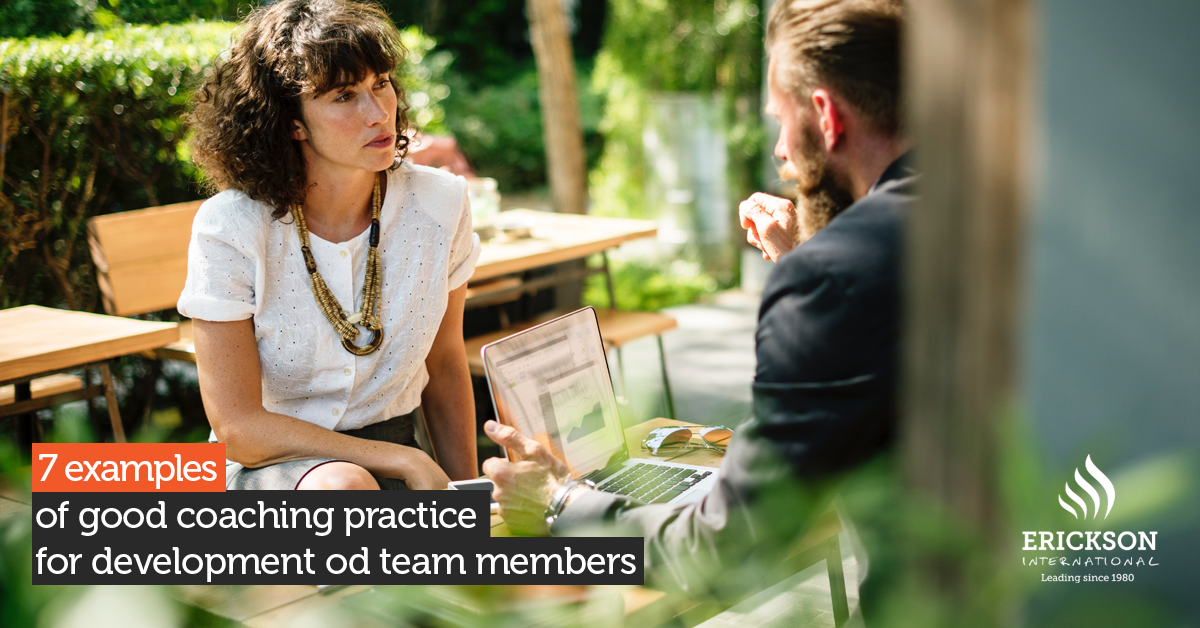 As manager, one of your main objectives is to work on developing your team members so that they can further develop their leadership skills, create new projects, achieve their goals and grow together as a team. To achieve that, you need to know the best ways to run your team, right? Now we are presenting to you what are you supposed to do in order to make your coaching effective. We offer you seven best practice examples that will serve you in the process of coaching your team.
1. USE DETAILED QUESTIONS
You can ask the question structured in the following way:
"Alex, the previous time we were talking about the celebration of our company and you said that you will analsze the various offers for space and catering? How is the analysis going?"
"How do you cope with the first phase of your action plan – the rationalization of operations in production?" Always be precise and detailed. Question: "How is the business going?" is commonly used in meetings, which is not the best way to get information you need. Also, employee won't know what is the answer you are looking for.
2. DON'T OFFER THE SOLUTION – FACILITATE YOUR TEAM TO THE SOLUTION
Please note that you should not solve the problem for them. Remember that difficult situations make people stronger. If they say, "I'm struggling with the problem "X", how should I deal with it?", help them define the problem, find out what they need to solve the problem, list options that can lead to success, then help them think and choose the best option for the start. In addition, help them define in advance how it will determine whether the selected solutions yield a result, so that they can adapt to the newly created situation. Remember that you should ask questions, guide and listen – do not try to rescue someone or solve the problem.
3. USE COACHING WHEN YOUR EMPLOYEES ARE IN CRISIS
There will always be a team member who will say: "I do not know what to do, I just found out …" This is different from the previous scenario, because the person now falls into a psychological crisis, which can lead to overcompression of the problem and complete blockade. Help them clearly define what the problem is, as well as the causes to know what to do. Also, team members need to properly look at the risks they face. If they have exaggerated a problem, it is up to you to recognize that and bring it to a moderate state. Just keep in mind that different people have a different stress triggers.
"What is the worst real scenario that can happen? How can you outgrow such a situation?" The point is that you tell them that they can do it, and that there is a way out of their crisis. After such questions, it is necessary to list further steps independently. "What would be the best way to take the first step in solving the current situation, so that the final output would be better than the worst possible scenario?"
4. WORK ON THE DEVELOPMENT OF THEIR PERSONAL OBJECTIVES AND PLAN
Team or individual development – it does not matter. It is important that in addition to business operations that you work on every day, they can rely on you in relation to their personal development. You should show that you care about their development and that you really want to help them as much as you can to achieve their goals. It's important for them that they create their own personal action plans that they can follow.
5. LEARN WHEN AND HOW TO SUPPORT THEM AND HAVE COACHING SESSIONS WITH EACH TEAM MEMBER
There is no formula for this. You know your team members the best, so you'll know how to support them in the best possible way. But remember! The best way to support someone is not the best way for every person – equal approach for different people can be destructive instead of productive. Your role is to lead them by giving them confidence and faith.
6. ADJUST THE COMMUNICATION OF YOUR MEMBERS
Some people need calm and supporting tone in communication. For example: "Lisa, it's okay to devote yourself to solving different crisis situations. Also, I noticed that you haven't completed activity X. How can I help you in doing that activity by the next session?" (Notice how this is a warm, friendly and supportive tone).
Some people need direct access and a firm hand. For example: "Michael, during the previous session, you stated that you will implement "X" in work. I understand you could not do that. Will you be able to find a way to do it next week? It is still important to carry it out to the end. Great. May I ask you to do it by the next Tuesday and to inform me by e-mail when you're done? Can you promise that you will do it? (You see this is a tougher and stronger tone).
7. FOLLOW YOUR WORK IN CONTINUITY
Make your action plan accessible and do regular weekly revisions of the plan. This way you will know what to look for from your employees in doing their job.
When you meet, clearly list the obligations in the notes to make sure that the next meeting is concise and concrete.
Once again, list the action steps and commitments at the end of each conversation dedicated to coaching. This helps to clear your mind. For example: "Sofia, if I may, I would like to repeat the obligations that you have listed for the period until the next session. It's about two things. First of all, you should … … Second, you said you would … Did I write well? Great, at the next meeting we will cross these items together. "
Here, we have listed the seven best examples of coaching practice that you can use to help your team members. Do you want to learn how to coach your members and how to work with each individual in productive way? Find out more about coaching program "The Art and Science of Coaching". Click on the following link https://www.erickson-coaching.at/tasc/